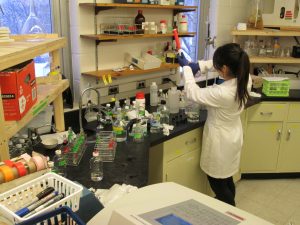 Hours of Operation:


Monday-Friday 9 AM – 5 PM
Sample Drop-Off Hours:


Monday- Thursday 11 AM – 3 PM

Please note: Samples dropped off outside of these times may or may not be accepted, at the discretion of CSI staff. If you are unable to drop off samples during these hours, please call 607-257-6606 to make special arrangements. Bacteriological samples cannot be accepted on Fridays.
The Community Science Institute is certified by the New York State Department of Health-Environmental Laboratory Approval Program (NYSDOH-ELAP) under National Environmental Laboratory Accreditation Conference (NELAC) guidelines. Our identification numbers are ELAP ID# 11790 and EPA ID# NY01518.
CSI is the largest certified lab and only nonprofit lab in Tompkins County. We subcontract with other labs for certified tests we do not perform ourselves.
Our lab partners with volunteer groups to monitor streams and lakes in the Finger Lakes and Southern Tier regions, particularly the Cayuga Lake watershed.
In addition to the volunteer stream and lake monitoring partnerships we conduct as part of our nonprofit mission, we analyze samples from private citizens and businesses as well as government agencies on a fee-for-service basis.
How to Get your Water Tested
Pick up a sampling kit from the CSI Lab. (Bottles can also be picked up at the Trumansburg ShurSave Customer Service Desk or at Ithaca's Greenstar  -in the back by the filtered water sink) 

Follow instructions very carefully to collect the sample. Failure to follow instructions may invalidate your test results!

Fill out bottle label and paperwork.

Drop off the sample at the CSI Lab the same day you collect it. Drop off times are Monday-Thursday, 11 AM – 3 PM. If you are unable to drop off a sample during this time, call the lab to make special arrangements.

Keep samples cold, either in the refrigerator or on ice but do not freeze.

You will receive a certified test report in the mail within 10 business days (rushed reports available for additional fees).
Directions to Our Lab
Take Route 13 north from Ithaca past the malls, turn left onto Warren Road, then take the first right onto Brown Road and into the Cornell Business and Technology Park. Continue past the entrance to the Ithaca/Tompkins Regional Airport to the Langmuir Lab, the last building on the right before Brown Road loops back to Route 13. The CSI lab is on the second floor at the far right-hand (west) end of the Langmuir Lab in room 283.